Recipes
Sedani Rigate with Dinda Pork Luncheon Meat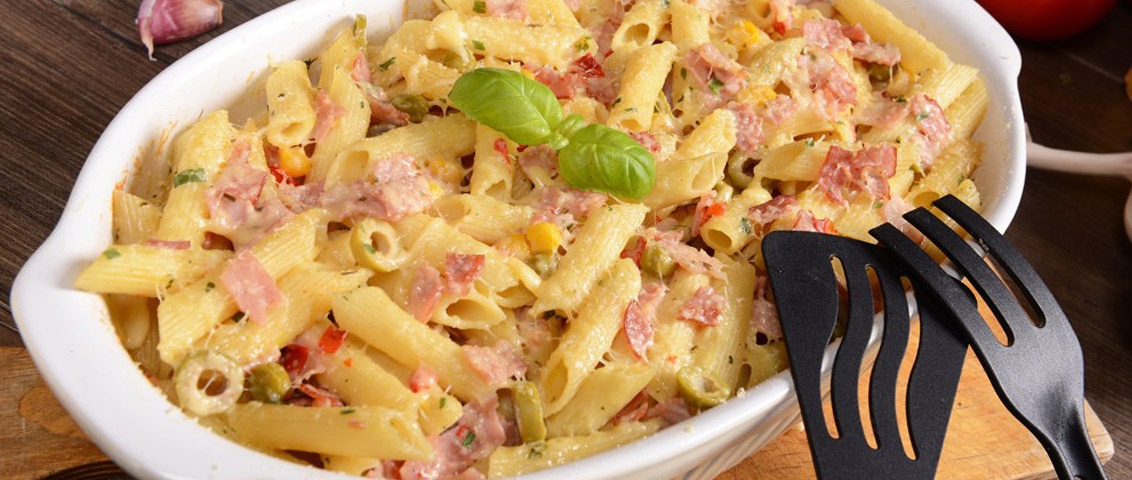 Ingredients
• 200g Dinda pork luncheon meat
• 200g Cheese in cubes
• 100g Grated cheese
• 300g Dinda sedani rigate
• 200g Heavy cream
• 50g Dinda canned sweet corn
• 50g Dinda peas
• 1 Medium tomato chopped
• 4 Green olives chopped
• Oregano
Directions
Step 1 – Cooking
Cook the Dinda sedani rigate until it is "al dente", and set aside.
Step 2 – Sauce
In a bowl, prepare the sauce by mixing the Dinda pork luncheon meat, the cheese in cubes, the chopped tomatoes, olives, corn, peas and the heavy cream.
Step 3 – Presentation
Pour a little of the sauce on the bottom of the baking dish and on top of it a layer of cooked Dinda sedani rigate.
Add another layer of sauce and another of spring. Repeat the layers until you have completed the dish.
Finish with grated cheese and a bit of oregano.
Put it in the preheated oven at 200ºC, and as soon as the cheese is brown, the dish is ready and can be served.